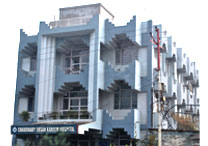 In the year 1996, Amin Welfare Trust built a hospital in Jajmau, Kanpur (UP). This hospital was built on 450 Sq yards and was inaugurated by Hazrat Maulana Siddique with a single physician and gynecologist with the intention of providing medical services to the workers and their families as well as the neighboring population.
At present, the hospital has experienced and qualified doctors of different domains treating a number of people daily. We are proud and happy to see that we are able to provide good services to the poor and needy and saving lives.
If we talk about figures, the Chaudhary Ehsaan Kareem Hospital has treated 86,1039 patients till 31st October 2015.
We have a panel of 12 qualified doctors, who are equally dedicated and happy to work with us.
Doctor Name                    
Specialty
1. Dr. Farooq Alam
Ophthalmologist
2. Dr. Rajeev Kakker
M.D chest
3. Dr. Asif Aijaz
ENT
4. Dr. Nasir Ahmad
Psychiatrist
5. Dr. Shalini Srivastava
Gynaecologist
6. Dr. Vinay Gupta
Orthopedic Surgeon - M.S.
7. Dr. Rahul Misra 
Skin Specialist
8. Dr. S.U Hassan
M.D Physician
9. Dr. Iftikhar Ali
General Surgeon
10. Dr Mohit Khatri
Dentist - B.D.S & M.I.D.A.
11. Dr. Arun Prakash Dwivedi (View detail)
Surgical Oncologist (MCh)
12. Dr. Shilpi Soni
Physiotherapist
13. Dr Asma Khan
DGC, Ph.d Psychotherapy
Consultant Clinical Psychologist, Psychotherapist and Relationship Counsellor